Yourself
"Imagine a world where technology enables a better education for all". This is the starting point of Yourself: the challenge that let us think a solution to deeply understand people needs, feelings, problems, and also characteristics and aptitudes. Yourself tries to discover how you really are in order to know how to react. To do this, it exploits graphology.
Education comprises an ensemble of factors, ranging from one's own personal experiences to the influences transmitted by our parents, the mass media, and environment in which we are raised and with which we are in contact on a daily basis. Everything which surrounds us can, in fact, be perceived in one manner or another or not be understood at all, depending on each individual's personality and characteristics. The greatest difficulty for parents and teachers, without having to inevitably resort to the assistance of professionals who may be economically unapproachable, is to rapidly understand the personality, characteristics, capacity to reason, and aptitudes of their children. YourSelf attempts to provide a solution to this problem by analyzing students' handwriting.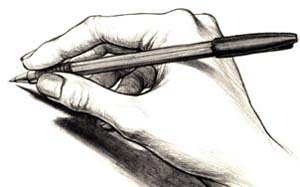 All of us when reading a text focus our attention on the message it offers, its content, or, through the eyes of a teacher, on its grammatical aspects and descriptive form. YourSelf takes handwriting to a higher level: it doesn't analyze what is written so much as how it is written. When we put pen to paper, we don't just communicate the contents of what we are writing, but we are actually making an impression on the page of our own personality with its specific character traits, strengths and weaknesses. All of this can easily be obtained by analyzing handwriting characteristics, according to a science called graphology.

We can therefore analyze the peculiarities of each student, his/her potential and aptitudes, as well as understanding the deep motivations that may be at the root of learning difficulties.Based on an analysis of a student's handwriting and its evolution over time (profile), teachers can effectively evaluate students much more clearly. In this way, students can be assisted in a personalized manner, properly understood and assisted in surmounting their difficulties.

Moreover, YourSelf can be used to diagnose and comprehend the causes of problems which can arise in learning situations, such as Specific Learning Disturbances (dyslexia, dysgraphia, dyscalculia and dysorthographia), providing assistance in preventing such occurrences while accelerating their correction. It is also possible to understand and analyze a student's ability to communicate, perceiving whether there may be problems related to socialization and integration. Analyses of this sort can assist in preventing phenomena such as bullishness or help students who are experiencing difficulties in accepting others or integrating within a group.

Thanks to YourSelf, students are in fact stimulated and aided in overcoming their learning difficulties, becoming acquainted with their own potential and weak points, while being allowed to discover their aptitudes and characteristics. The program therefore provides an important support in helping them decide their future.


Yourself has been selected as project responsible to represent Italy at the worldwide finals of the Microsoft Imagine Cup 2007 Software Design competition, after having won the italian finals in Trieste during june 2007. The worldwide finals have been taking place in South Korea from 5 to 11 august 2007 at Sheraton Grande Walkerhill hotel in Seoul.
Yourself: the team
Carlo Alberto Boano, 22 years old, Politecnico di Torino
(Team leader and responsible of paper work, algorithms' creation and tablet pc development)
Alessandro Cartura, 23 years old, Politecnico di Torino
(UI-design and graphics)
Davide Benato, 24 years old, Politecnico di Torino.
Melissa Veglio, 19 years old, Liceo Scientifico Curie in Pinerolo.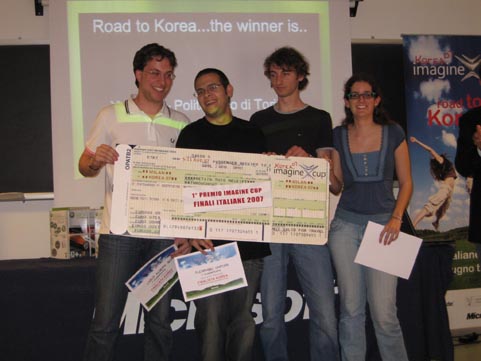 Yourself - credits
Video contents:
Yourself spot video
;
Italian TV News (Rai3) of 15/08/2007
;
Radio interview at GRP of 23/07/2007
;
The Imagine Cup 2007 Italian finals official videoclip
(from
the Microsoft Imagine Cup official page
);
Image contents:
Yourself screenshots
;
Web contents:
La Stampa del 11/06/2007
;
La Stampa del 10/08/2007
;
Il Corriere della Sera del 09/08/2007
;
Il Corriere della Sera del 10/08/2007
;
Il Corriere della Sera del 10/08/2007
;
Il Corriere della Sera del 10/08/2007
;
La Repubblica del 30/06/2007
;
Comunicato stampa Microsoft del 10/06/2007
;
Comunicato stampa Microsoft del 10/08/2007
;
Microsoft - casi di successo
;
Studio Legale Lagreca
;
Musicalia.it
;
AreaPress.it
;
PuntoInformatico.it
;
Newsletter Libero dell'11/08/2007, 3° pagina
;
Rizzoli-tech.it
;
Il giornale dell'ingegnere del 15/07/2007
;
Special thanks:
Anna Alasia; Giorgio Sardo; Emanuele Arpini; Microsoft Italia and Academic Club; Stefano Santoro, Marco Bodoira and all people who helped us.